Binh Lieu occasion to January, February pilgrimage spring travel, explore the landscape border telecommunications domain, visitors will be visiting the waterfalls, beautiful streams clean. Not only that, you also have the opportunity to enjoy spring fish – one of the typical dishes in the highlands.
       Fried fish served with leaf springs is where most guise. Binh Lieu District is famous for beautiful scenery, fresh of the mountains, the streams, waterfall. Not the romantic landscape, long winding streams is also habitat for many species of wild fish, Binh Lieu people still referred to a name: Fish and streams. According to local people, spring is the reason fish dishes are especially preferred customers because they live quite naturally in the ravine. Loaches spring fish include fish, squinting, catfish, fish man, carp … Food streams mainly mosses, grasses and plankton, crustaceans, fish and streams make up the meat, delicious, not fishy, ​​clean intestines.
      Fish live in the environment slot streams, springs many falls, so most strongly flowing water swim very well. Stream fishing is not simple, but the locals have caught many interesting ways. To Binh Lieu, if you are lucky you will be leading people to go out and streams, fishing in the traditional way. Usually people or fishing streams in the spring and most of summer – the time of spawning more. Before common way is to set the hook bait worms along the rocky niche, dust algae in waters with different depths, marking and lifting morning after seeking necessary, collect fish stick sentence.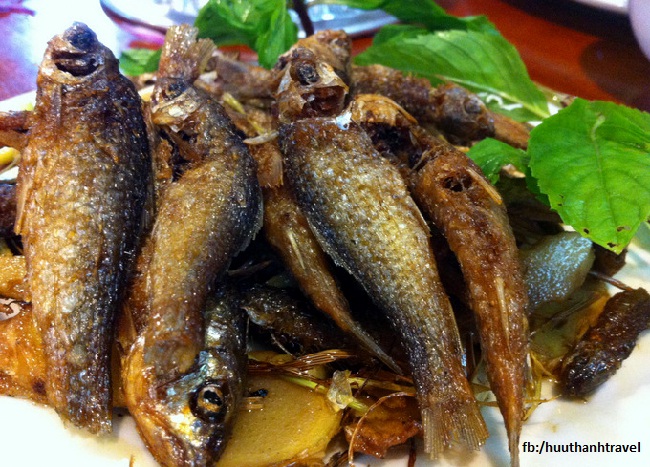 In addition, relatives of other ethnic groups have a very unique fishing streams, such as the song choices or easy up wadi, beige shore and take the easy forest type spicy as its trees, forests and release pound into the water. Resin melt into springs of water drunk fish, sting eyes, they will emerge or jump ashore, who hit just cut back. This earned hitting fresh fish but to catch fish requires the proficiency of forest trees, know the location chosen beige, embankment. Today, more advanced, people used bamboo or wicker cage nets to catch in the fall area, flowing waters, catch more fish
     Spring fish caught are brought about washing, cleansing or can be added to processed immediately. Fish processing streams are many dishes, especially fried delicious. Especially, when frying with oil base – a typical product of Binh Lieu, fish will become, golden and shining eyes, more aromatic flavor. Fried spring rolls with fish hot spots guise leaves relatively impoverished, salty fish sauce, soy sauce or salt and chilli garlic chili pepper crust delicious lemon mix. Specifically, visitors enjoy fishing streams but "put spicy" with a couple of cups of wine yeast as alcohol leaves Cao Ba Binh Lieu Flax is an incredible statement, unforgettable.
source: baoquangninh.com